Yates Pecan Oil Wins Nationwide Good Food Award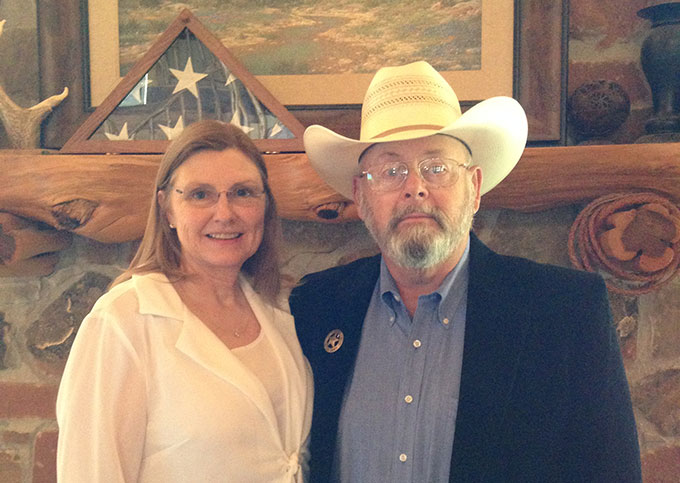 Over 900 people including farmers, chefs, journalists and food activist gathered January 20, 2017 in the historic Herbst Theater in San Francisco to pay tribute to 193 Good Food Award Winners. Included in the award winners were Yates Pecan, LLC for its unique Extra Virgin Pecan Oil. Yates Pecan LLC owners, Pam and Harold Yates, produce pecan oil, pressed pecan meal and other gluten and GMO free products in San Saba, Texas. Their agricultural activities also include in-shell pecan production, purchasing and marketing plus livestock, custom hay baling, and wildlife businesses. Harold and Pam have been loyal Central Farm Credit customers since 2002.
The Good Food Awards celebrate crafted food that is tasty, healthy and responsibly produced. The Good Food Foundation 501 (c)3 organizes the Award in collaboration with a broad community of health-conscious people. As winners, Yates Pecan was entitled and participated in an invitation only mercantile day at the San Francisco Presidio restricted to healthy food oriented journalists and purchasing organizations. Yates Pecan is also allowed to display the Good Food Award seal on its pecan oil.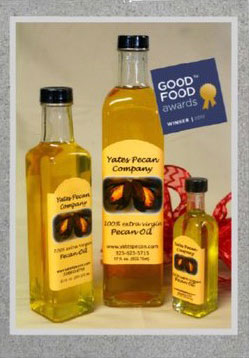 Yates Pecan Oil was recognized for its unique and healthy properties. Compared to the finest extra virgin Olive Oil, pecan oil has 40 % less saturated fat, three times the amount of good polyunsaturated fats including omegas-3 and -6 and twice the vitamin E. Pecan Oil also has a higher smoke point of 470 degrees which makes it excellent for sautéing. Pecan Oil contains about the same calories (126 per tablespoon) as Olive Oil (120 per tablespoon). For the gourmet, cold pressed pecan oil is a premium oil with a new and exciting pecan nut flavor. The pressed pecan meal produced in association with the cold impeller oil pressing process provides a gluten free baking product used by Yates Pecan for its pressed pecan meal cookies, pie crusts, donuts, meat substitutes and pecan butters.
In winning the award, Yates Pecan Oil rose to the top amongst 2095 entries in a Blind Tasting with 250 judges. The highest scoring entries were then submitted to a rigorous vetting process to verify they met the sustainability and social responsibility criteria to win a Good Food Award. As a winner, Yates Pecan Oil represents the forefront of American craft food making with a product that is delicious, respectful of the environment, and connected to community and cultural traditions. Awards were presented by Nell Newman, daughter and director of Paul Newman's Own Products, San Francisco Restaurant Owner Alice Waters and other nationally known healthy food advocates.