Early Branch Office | Farm And Ranch Loans In Early, TX
Counties Served: Brown, Mills
Farm and Ranch Loans In Brown County & Mills County, Texas
Ag-Business Loans From AG-Business Professionals
Farms and ranches require specialized lenders who understand their industry, and Central Texas Farm Credit is dedicated to providing Central Texa agriculture operations with the financial support they need to thrive.
Our lending agents and branch managers have worked in agriculture and understand how complicated it can be. That's why they're the person you should turn to when you need an agribusiness loan.
Become a Member-Owner
Central Texas Farm Credit is a cooperative, so when you take a loan through us you become both a member and an owner.
As a cooperative, we're able to offer farmers, ranchers, and agricultural operations lower interest rates through annual patronage refunds.
These dividends allow us to strengthen our member-owners and Central Texas farming and ranching, generally throughout Mills and Brown County, Texas.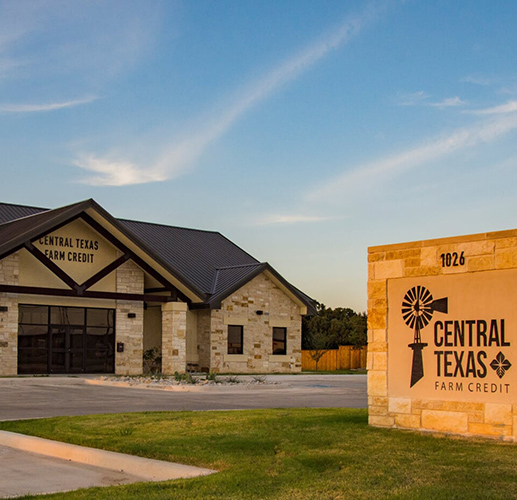 Office Hours:
8:00 am - 5:00 pm Monday - Thursday
8:00 am - 4:00 pm Friday
Address:
P.O. Box 3200
Early, Texas 76803
1026 Early Boulevard
Early, Texas 76802
Ranch & Farm Loans From Our Early, TX Office
Farms and ranches are subject to volatility, either because of poor weather conditions or wear and tear on their equipment.
Central Texas Farm Credit offers low-interest farm & ranch loans so that you can get repairs on equipment or whatever else your operation needs to thrive year after year.
Agribusiness Loans From Our Early, TX Office
The variety of agribusiness operations makes traditional loans less appealing. Each business is unique, and a one-size-fits-all approach just doesn't work in ag financing.
CTFC is a dedicated agribusiness lender. Whether you're a sole producer or a multinational operation, we can provide tailored agribusiness loans that ensure your farm, ranch, or production facility thrives.
Land & Real Estate Loans From Our Early, TX Office
Whether you're purchasing recreational land or a rural home on a large tract, you need a real estate lender that understands the market for undeveloped real estate sales.
Central Texas Farm Credit has specialized lending agents who understand the market. Whether you're looking for an investment property or just a place to build a cabin, we'll be able to find the loan product that best meets your needs.
AG Equipment Loans From Our Early, TX Office
Your livelihood depends on the equipment you use to plant, harvest, and otherwise run your farm. If something breaks down and you need new equipment, you'll want a lending agency that knows your business.
CTFC offers farm equipment loans to help you get new or used farm machinery. Our team will ensure that you get a great loan product that keeps your operation running smoothly.
Livestock Loans From Our Early, TX Office
Whether you're looking to expand your herd or otherwise improve your livestock operation, you need a loan from a lender that understands how to raise cattle, sheep, goats, and other livestock.
Central Texas Farm Credit offers a suite of livestock loans, including cow-calf, feedlot operations, and feeder livestock loans. Our lending agents are ready to help you and your herd today.
Farm Loans From Agents Who Understand Your Business
Central Texas Farm Credit is dedicated to helping the farmers, ranchers, and agriculture production facilities in our area truly thrive.
Contact us today to speak to one of our experienced agents to learn more about out agricultural lending products.