San Angelo Branch | Agriculture & Farm Loans San Angelo, TX
Counties Served: Coke, Irion, Reagan, Runnels, Sterling, Tom Green
Farm & Ranch Loans From A Lender That Knows Agribusiness
Central Texas Farm Credit in San Angelo, TX is dedicated to simplifying the lending process for farmers, ranchers, and agribusiness owners–period.
When you become a member-owner with CTFC, you can expect lower interest rates and a team of lending agents who actually understand your business.
Contact us today to schedule a consultation with a member of our team.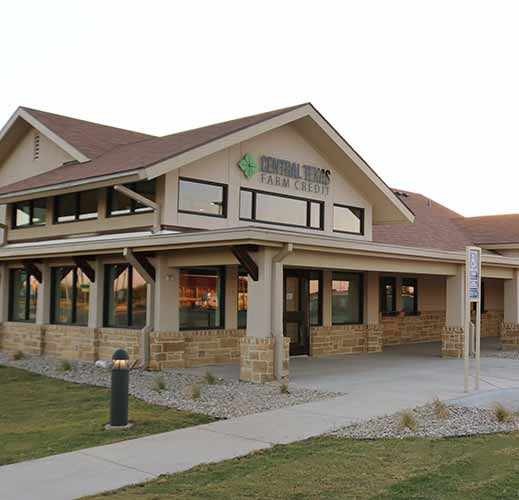 Office Hours:
8:00 am - 5:00 pm Monday - Thursday
8:00 am - 4:00 pm Friday
Address:
P.O. Box 841
San Angelo, Texas 76902
3651 South Bryant Boulevard
San Angelo, Texas 76903
When You Become A Member-Owner
Central Texas Farm Credit is an agricultural lending cooperative owned by our members and run for the benefit of Central Texas farmers, ranchers, and agricultural business owners.
When you sign a loan with CTFC, you become more than a member–you become an owner.
As an owner, you'll get lower interest rates made possible by the yearly dividends we pay our owners.
These dividends allow you to focus your money on where it counts: your farm, ranch, herd, or processing plant.
Ranch & Farm Loans In San Angelo, TX
Independent farmers, ranchers, and agribusiness owners suffer from a kind of volatility that other businesses don't encounter.
Drought, disease, an unexpected equipment malfunction–all of these can lead to dire and long-lasting problems for an independent farm or ranch.
CTFC's farm & ranch loans offer a way for you to weather a storm, should you need it, or expand your operations when you're ready.
Our experienced agribusiness lending team can help you find the right loan product today.
Farm Equipment Loans In San Angelo, TX
In agriculture especially, your farm equipment is your livelihood. Unexpected repairs and replacements can devastate your yearly margin–maybe for a few years in a row.
If you need new equipment or require repairs on the equipment you have, CTFC's agricultural business equipment loans and tractor loans are designed to help you do so.
Our experienced lending agents can help you find the right loan for your situation, and as a member-owner, you'll receive low interest rates to simplify your budget.
Livestock Loans In San Angelo, TX

A livestock loan can allow you to grow your herd when the time is right or protect them with a new barn or feed storage facility.
A stocker cattle loan is a great way to expand your business, and CTFC's low interest rates can help protect your investment.
Our livestock lending agents are standing by to help find the livestock financing solution that meets your needs.
Rural & Recreational Land Loans In San Angelo, TX
If you're looking for a loan for a land purchase, Central Texas Farm Credit offers land loans for recreational and agribusiness land purchases.
Whether you're looking to expand your pastures to allow for more grazing or you want to set up a deer lease, our land loan lenders in San Angelo, TX are standing by to help you find the perfect loan product for your needs.
Agribusiness Loan Lenders That Actually Understand Your Business
Central Texas Farm Credit is dedicated to providing Central Texas farmers and ranchers with high-quality, custom farm and ranch loans and land financing.
If you need an agriculture loan, contact CTFC today to speak with one of our representatives and learn how we can craft a custom loan that helps meet your need.