New Office Building
New facility will combine Early branch and corporate headquarters
Central Texas Farm Credit, a member of the Farm Credit system, has announced plans to build a new corporate headquarters and branch office building in Early, Texas. The new facility will alleviate serious overcrowding issues in both the Early Branch and the Administrative offices currently housed in Coleman.
"Central Texas Farm Credit is certainly not new to Early," said Chief Executive Officer, Jimmy Chambers, "We have had a presence here for a very long time and we're excited to be expanding our presence by making Early our new corporate headquarters."
Central Texas Farm Credit has experienced substantial growth in the past five years in both loan volume and staff expansion. The relocation of the company's administrative offices is intended to better serve customers and to position Central Texas Farm Credit for long-term growth.
"With a lot of help from our Architect, CADCO, Inc., and our Construction Manager, Waldrop Construction, Inc., we have designed a building that is both functional and attractive," Chambers added, "It will be fun to watch the project take shape over the next several months and I think we are building something that the community will be proud of."
Members of the Early Chamber of Commerce, Early Economic Development Corporation, and Central Texas Farm Credit Board of Directors and staff attended the groundbreaking ceremony on June 23, 2015.
"The Early Chamber of Commerce and Economic Development Corporation have been very supportive of this endeavor and we really appreciate their support," said Chambers.
The building project is expected to be completed in April 2016, with branch and corporate office opening immediately after construction.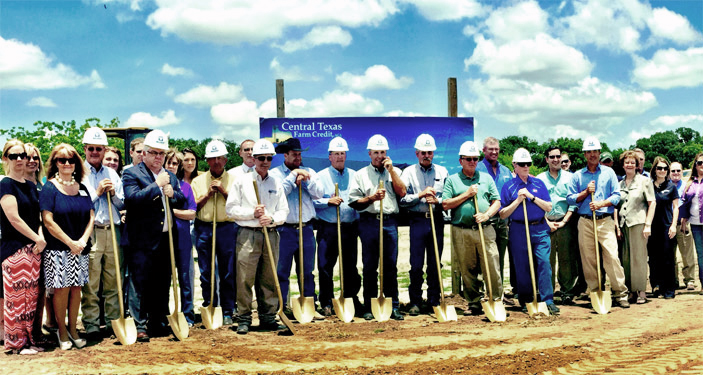 About Central Texas Farm Credit
Founded in 1916, Central Texas Farm Credit is dedicated to providing a reliable source of financing for agricultural producers, agribusinesses, and recreational property. Member-owned and part of the Farm Credit system, Central Texas Farm Credit maintains a portfolio of 2,700 loans for over $430 million in a 20 county area in central and west Texas. It is headquartered in Coleman, Texas and has branch offices in Brownwood, Texas; San Angelo, Texas; Comanche, Texas; Brady, Texas, and Haskell, Texas. For more information, please visit http://www.ranchmoney.com/ or call 877-229-0221.