Jessica Railsback Named Finalist for Texas Farm Bureau Young Leaders Award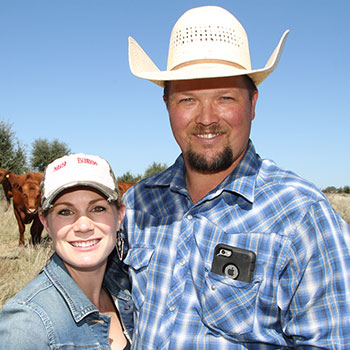 By Julie Tomascik
Cisco, Texas — Ranch management is a rewarding task. But add challenges of an ever-changing environment, a growing family and helping other farmers and ranchers through ag lending, and it's hard to imagine how one family can keep it all going.
But it's a juggling act Ryan and Jessica Railsback deliver with passion and optimism.
Ryan is the ranch foreman for Paraiso Escondido, where he manages the wildlife, brush control, building improvements and their partnership cattle herd.
The ranch has white-tailed deer and other native species, along with fallow deer, axis deer, Aoudad rams, elk, wildebeest and blackbucks.
Part of Ryan's job includes guided hunts and the behind-the-scenes efforts to make those possible.
"On commercial hunts, I am responsible for making sure we have enough animals, which animals to take, lining up help and the paperwork," he said.
Hunter education and managing land with cattle and wildlife are Ryan's passions. Both of which he was able to combine into a career.