CTFC holds ribbon cutting, open house for new San Angelo office building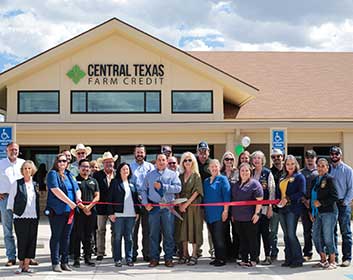 SAN ANGELO, Texas - Central Texas Farm Credit (CTFC) celebrated their new San Angelo office building on August 9 with a ribbon cutting and open house. The event was attended by members of the San Angelo Chamber of Commerce, CTFC stockholders, employees, and the public.
The rural lending cooperative's new facility is located at 3651 South Bryant Boulevard in San Angelo. The new building has more office space for a growing staff, a conference room, and better parking than CTFC's previous location. 
"We want to thank everyone who attended our ribbon cutting ceremony and open house," Wade Polk, vice-president branch manager said. "This is an exciting time for CTFC. Expanding our facility in San Angelo allows us to better serve the area farmers, ranchers and rural property owners. We are appreciative of our customers who do business with us and look forward to hosting events in the future at our new office."