The New Look of Central Texas Farm Credit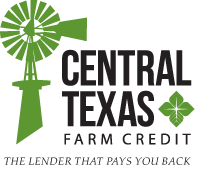 Don't let our new look fool you—
We're the same people with a brand new look. This summer, Farm Credit will celebrate 100 years of support to agriculture and rural America. As we advance with our new brand, we're moving forward with great purpose and respect for our history.
Our team will continue to provide you consistent and reliable credit. Our lending experts will continue to show you products and services that suit your needs – large or small.
We look forward to the next chapter in our relationship with you.
If you have used the Central Texas Farm Credit logo in any of your marketing materials, please assist us in updating them.