Stewards of a Legacy
When you think of iconic Texas cattle ranches, you might envision cowboys on horseback, chuck wagons at roundup time and herds of cattle grazing on open range. 
At Guitar Ranches, you can still see cowboys working cattle the traditional way. But if you look closely, there's more to see.
Jane and Phil Guitar are exploring opportunities to incorporate ecotourism activities into their ranching, cattle and wildlife operations as a way to diversify their historic ranches.
A storied history
Headquartered in Abilene, Guitar Ranches is among a number of highly regarded old ranching operations that have played a significant role in the Texas cattle industry. 
The enterprise traces its roots to 1906, when Phil's grandfather John Guitar Sr. purchased a ranch near Big Spring, Texas. John had grown up clerking in his family's mercantile store in Missouri. He moved to Texas in the 1890s seeking opportunities in agriculture. Before he died four decades later, he owned 46 cotton gins, several cotton compresses, huge herds of cattle and thousands of acres of ranchland, much of it dotted with oil wells. 
"My grandfather was an entrepreneur to the extreme," Phil says. "The legacy he left this family is the entrepreneurial spirit."
That spirit extended to Phil's father, Earl, who raised Hereford cattle and expanded the family's mineral interests. It continues with Phil and Jane, who's added caliche, water and recreational enterprises.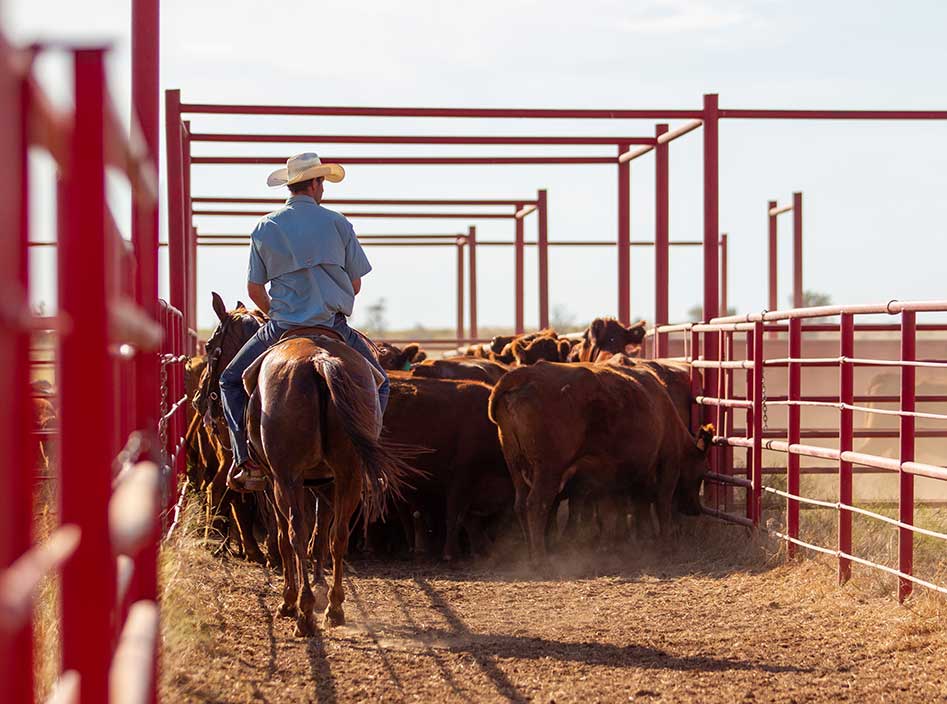 Geographic diversity
The Guitars have always stressed geographic diversity in their land holdings.
"My dad's philosophy was, never have ranches that are together," Phil says.
Today, Guitar Ranches includes properties in six counties, from northeast of Abilene to Dell City, 375 miles to the west. Phil and Jane also own and operate ranches near Hamlin that belonged to her parents.
"I've always been impressed with Phil's energy and optimism in an industry that is as volatile as cattle ranching is," says Jimmy Chambers, Central Texas Farm Credit chief executive officer. "I think that positive attitude can be attributed to his diversification. Not all his eggs are in one basket."
The Guitars have done business with Central Texas Farm Credit for over 20 years. With the lending co-op's support, they further expanded their ranching operations in 2019 by purchasing land that adjoined Jane's property.
"At Thanksgiving we made an offer on the place," Phil says. "The seller said he would accept our offer, but only if we could close by Dec. 30 of that year. "Central Texas Farm Credit jumped through hoops and made it happen. They've been good to us."
Hormone-free Angus beef
For more than 30 years of operating Guitar Ranches, Phil and Jane have focused on improving their land and cattle herd and optimizing their use of water and wildlife.
Their commercial cow-calf operation consists of Black and Red Angus cows bred to Black or Red Angus bulls for both spring and fall calving. The Guitars retain their heifers and breed the best. Weaned calves are preconditioned on wheat pastures in the winter months and improved grass pastures in summer. Most of the animals are marketed through Walmart's all-natural, hormone-free Angus beef program under the Prime Pursuits label.
"My father always said, 'Do not overstock,'" Jane says. And the Guitars do not. A key to their sustainability is their conservative stocking rate.
At the same time, they're building their land's carrying capacity through better pasture and water management.
"Water is so important to the business," Phil says. "You take your water and spread it out and there's no end to what you can do with it."
Water and wildlife
By strategically placing water sources, the Guitars have reduced overgrazing. Plus, they've cleared water-hungry invasive brush species, such as juniper and mesquite, to free up springs that support the ecosystem. Deer and other wildlife also benefit because the brush is selectively cleared in a sculpted pattern that provides them with cover and shade.
For years, the Guitars have generated revenue from wildlife — white-tailed deer, mule deer, turkey, dove, quail, waterfowl and feral hogs. They recently expanded their hunting and fishing enterprise, Guitar Outdoors, to include special events and field-to-table programs. The outfitting division will host 16 events in 2022.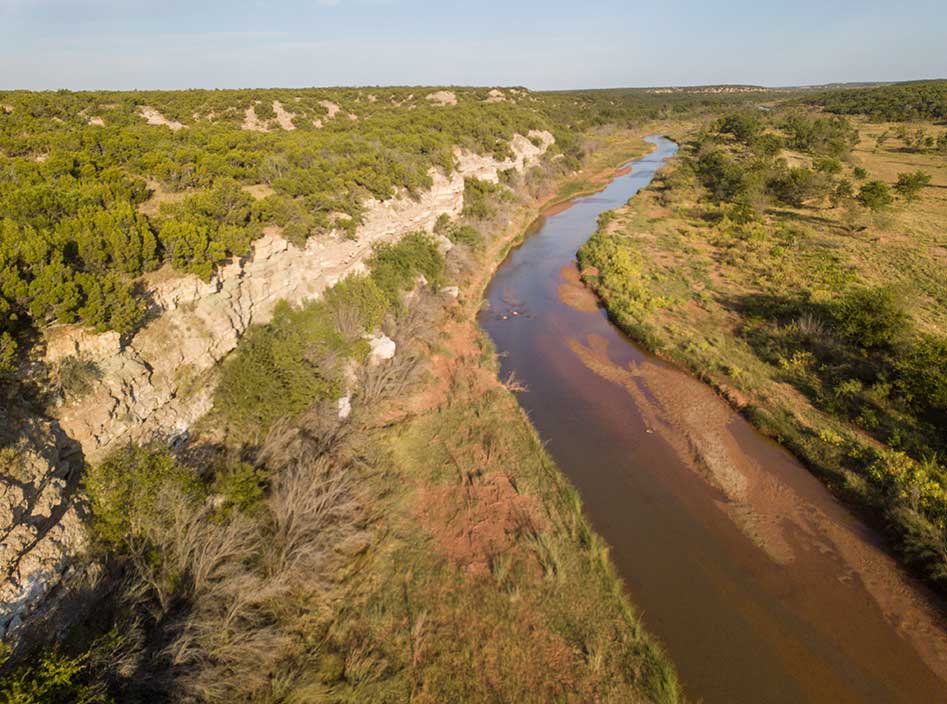 Lodging and entertainment
In partnership with Outdoor Solutions, Guitar Outdoors offers long-range shooting and culinary schools at their T Diamond Ranch and 12,000-square-foot lodge near Aspermont. Guests harvest wild game and then cook it under the guidance of a five-star chef.
Fifty miles east of Lubbock at the base of the Caprock is their Spur Ranch. With a 1,000-yard shooting range, commercial kitchen, dining facilities and lodging for 14 people, the Spur Ranch is available for business meetings, retreats, weddings and events such as horse clinics.
Both Jane and Phil emphasize that it takes a large staff — from cooks and cleaners to a wildlife biologist and a construction crew — to keep Guitar Ranches running smoothly. 
"We're lucky to have dedicated people who've stuck with us and helped us to do that," Phil says. "I feel we're a family."
Nature tourism
What makes Jane's eyes really sparkle, though, are the couple's plans to offer ecotourism activities at Guitar Ranches and the Martin Ranch, where she grew up. 
"At the Martin Ranch, we want to have a sanctuary where people can just drive out and see wildlife — and there won't be any hunting," she says. "The idea is to offer cycling and hiking and non-consumptive activities."
Twenty miles of the Double Mountain Fork of the Brazos River run through the property. The ranch is also home to a cave with a large bat colony. For years the Guitars have invited Boy Scout troops to explore the cave. In the future, they might open it to the public, as well.
"What we are doing are things that will pay off in the future," Jane says. "We're making improvements for years to come."
If John Guitar Sr. were alive, there's no doubt he'd approve of the couple's efforts to keep the ranches healthy, sustainable and profitable.
"We have an obligation to take care of these ranches," Phil says. "We're trying to be good land stewards."