Central Texas Farm Credit Stockholder Participates in 2017 Farm Credit Young Leaders Program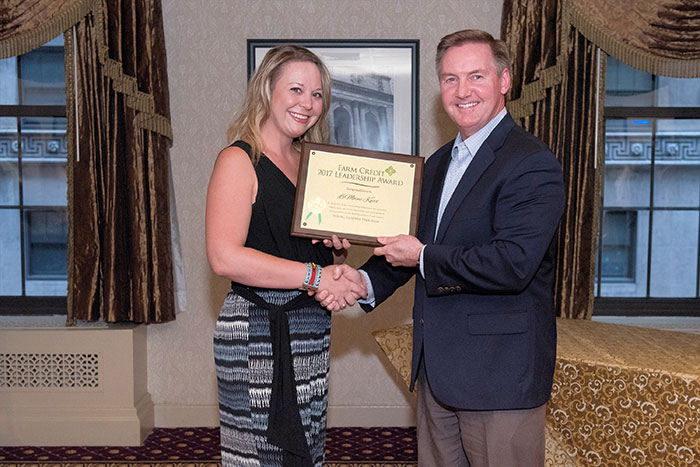 EARLY, Texas — LeMoine Knox of Coleman, Texas, recently learned how Farm Credit uses its cooperative structure and unique funding mechanism to lend support to rural communities and agriculture across the United States. Knox represented her lender, Central Texas Farm Credit, at the 2017 Farm Credit Young Leaders Program in Washington, D.C., and New York City.
The 12th annual program began in the nation's capital, where the 23 participants joined Farm Credit representatives from around the country in meetings with U.S. Agriculture Secretary Sonny Perdue and Sen. Pat Roberts, chairman of the Senate Agriculture Committee. Knox also discussed policy issues with USDA officials, House Agriculture Committee Chairman Mike Conaway, Rep. Jodey Arrington, and Sens. John Cornyn and Ted Cruz.
Next the group traveled to the New York area. During visits to the Federal Farm Credit Banks Funding Corporation and a Wall Street brokerage firm, they learned how investors purchase highly rated Farm Credit notes and bonds, supplying steady funding for loans and related services. Together, 74 borrower-owned Farm Credit cooperatives provide $251.2 billion in financing to farmers, ranchers, rural homeowners, agribusinesses and other eligible borrowers.
"Our annual program is designed to give participants insight into the ways Farm Credit supports agriculture and rural communities," said Stan Ray, president of the Tenth District Farm Credit Council, which hosts the Young Leaders Program. "The trip is also an opportunity for these young ag producers to share their experiences and ideas with lawmakers whose policies touch the lives of farmers and ranchers."
An attorney and fifth-generation rancher, Knox followed in her family's footsteps as a member of Central Texas Farm Credit. She is part owner in her family's commercial cow-calf operation, and is active in the Texas Southwestern Cattle Raisers Association and the National Cattlemen's Beef Association. At her private-practice law office, she focuses on real estate, estate planning and administration, and oil and gas. In addition to her law degree and bachelor's degree in anthropology with an emphasis on globalization and Latin American studies, she holds a certificate in ranch management from Texas Christian University.
The Tenth District Farm Credit Council is the regional member of the national Farm Credit Council, the trade association that works on behalf of Farm Credit cooperatives and their member-owners.